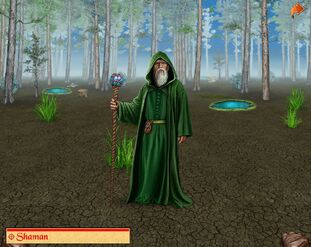 A shaman is a humanoid magician who will assault you from afar.
Varieties
[
]
All shamen will cast Magic Missile, Resistance and Lightning Bolt spells.
The Quest Original Game
[
]
Shaman
[
]
Aged Shaman
[
]
Level: 11
Hp: 150
Xp: 400
Blood Shaman
[
]
Level: 15
Hp: 200
Xp: 900
Islands of Ice and Fire
[
]
Winter shamen are found around the Abbey of Thule.
Winter Shaman
[
]
Level: 18
Hp: 320
Xp: 4500
Strategy
[
]
The best defense against a shaman is a high magic resistance. All his damage is magically based, and the higher your resistance, the less damage you will take.
Paralysis is an excellent way of closing the gap to get close enough damage the shaman
Shamen can cast the

Resistance

spell to protect themselves from anything but physical damage
Can anyone confirm if the Mage Curse spell is effective?
Blood Shamen can occasionally drop 3000 gold when killed.