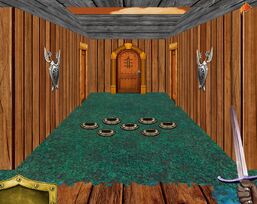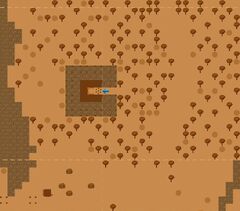 Building located at Pinegate - Western Shore.
Sathenea is the leader of the school. She trains young fighters for the Crown. Usually she only takes a referral from Bojorner, the retired professional mercenary and her old best friend. But if you have high Persuade skill you wont need his recomendations.
Features
[
]
The school has scattered broken armour west of the door.
The school has an unavoidable spike trap in front of the door. This trap cannot be avoided if you are trying to enter the school.
The training arena can only be accessed through this building.
It is highly likely that you will need to fight a few Shamans before you can enter the school.
Walkthrough
[
]
This is not a quest in fact. You just need to prove worthy to Sathenea.
Enter the central door inside the building to meet Sathenea.
Ask her about herself, "about the school", and if you persuasive enough, she will talk about "Training". You will be offered to choose the opponent:

Neophyte: "requires good intelligence".
Dedicant: "requires high dexterity".
Student: "the toughest one, requires great strength".

Level: 18
Hp: 356
Very painful melee attacks!

Upon making the choise you will be teleported to Battle Arena. You are allowed to use everything to win. Fight!
After defeating the opponent, climb up and speak to Sathenea again. You will be offered one more roung with the same opponent for doubling gold reward.

Accept. Fight again and get:

400 gold;
Potion of Ultimate fortify dexterity;
Potion of Ultimate fortify endurance;
Potion of Ultimate fortify magic;
Potion of Strong healing;
Potion of Strong restore mana.

Deny. Get:

200 gold;
Potion of Permanent strength (+1 Strength); (ONLY IF DENIED!)
Potion of Ultimate fortify dexterity;
Potion of Ultimate fortify endurance.

After that you can ask Sathenea why she looks "Troubled" and get the Help Lord Solamar Quest.