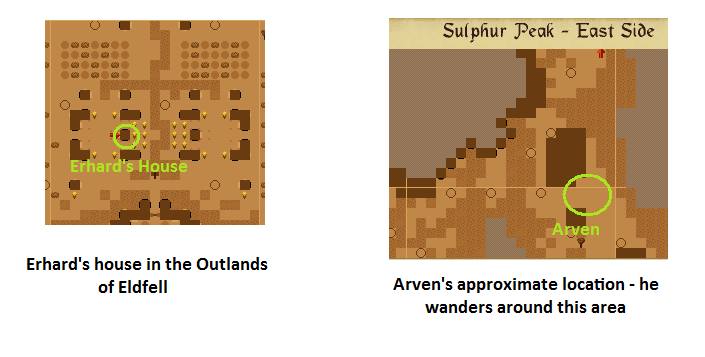 Erhard's son has become a Flesh Eater. Kill him and give Erhard some peace.
Getting Started
Edit
You'll find Erhard, the old hunter, in his house in the Outlands of Eldfell area (see map). If you ask if you can help him, he will tell you that his son, Arven, caught the flesh eating disease and has turned into a monster. He wants you to let him know what has happened to his son.
Killing Arven
Edit
You'll find Arven on the borders of the Lava Lake and Sulphur Peak – East Side areas somewhere towards the eastern side (see map). You will have to kill him as he instantly attacks you. He shouldn't be that difficult to kill, just chuck a few Lightning Storm spells at him or cut him down.
Once you've finished Arven off, return to Erhard and he will be sadly grateful (poor guy). He'll reward you with a Garrison Shield, 250 gold, 2 sapphire gems, 2 ruby splinter gems and a fame increase.
Community content is available under
CC-BY-SA
unless otherwise noted.