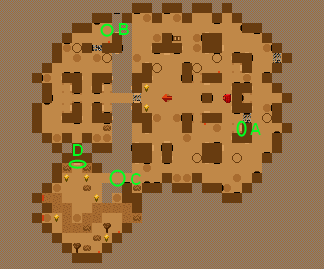 There has been an earthquake in the Undead City and Marusyma has lost her sister!
Talk to Marusyma (Map marker A).

She will ask you to find her lost twin sister Eleta.
Clearing the way
Edit
Get the Dark Maul weapon (Map marker B).
Use it on the boulders blocking the path(Map marker C). Only the Dark Maul is capable of removing the blockage.
Talk to Eleta (Map marker D).
Locked chest
Edit
Go back to Marusyma and give her the amulet.

She will reward you with a 2 maggoty meats, 200 gold, 8 items of Golden Coin and access to a locked chest that you have to Lockpick yourself (gee thanks!)
You will need a lockpick skill of 41 or higher to unlock the chest and finish this quest.
Uttor the Master Thief in City of Mithria can train Lockpick up to a skill of 50
Community content is available under
CC-BY-SA
unless otherwise noted.