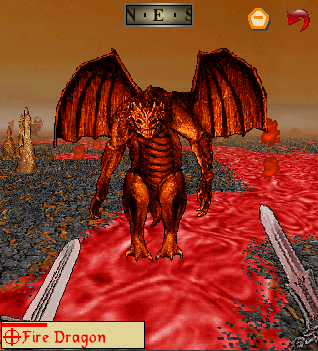 A dragon is a powerful enemy that features one long-range attack and a more powerful melee attack. Dragons of different elements are commonly found in their respective areas, i.e., a Fire Dragon would appear around the lava-covered areas of central Eldfell.
The Enchant System of The Quest refers to these as "Dragon Spawns."
Varieties
Edit
The Quest Original Game
Edit
Level: 18
Hp: 350
Xp: 3500
The Dragon is tied with the Undead King for the second-highest leveled monster in the main game.
Dragon King
Edit
Level: 20
Hp: 600
Xp: 5000
Deals massive physical damage
The Dragon King is the highest leveled monster in the main game.
The Dragon King and the Undead King give the most experience for a monster in the main game.
Islands of Ice & Fire
Edit
Fire Dragon
Edit
Level: 20
Hp: 500
Xp: 10000
Swamp Dragon
Edit
Level: 22
Hp: 750
Xp: 15000
Str: 70, Dex: 55, End: 55, Int: 11
Snow Dragon
Edit
Level: 25
Hp: 1000
Xp: 25000
Str: 75, Dex: 60, End: 65, Int: 14
Dragons are 2 stories tall, so try to retreat to a corridor where they won't be able to follow you if you need to retreat
When fighting multiple dragons, try to get them to fireball themselves. They are vulnerable to their own damage. You still get the experience for their deaths!
Use Magic Resistance gear, spells, and potions, especially if fighting from a distance. The Stone Skin spell is advised for fighting up close.
Community content is available under
CC-BY-SA
unless otherwise noted.